2011 Citroën C-Crosser Owner's Manual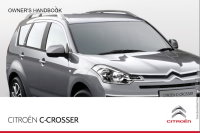 Quite a rare crossover model Citron C – Crosser 2011 is more like an SUV. Its capacity assumes a maximum of 7 seats. For the manufacture of the platform, the Outlander XL was taken as the basis . The model positions itself as a high-class car, according to the highest requirements. The advantage of the C -Crosser is the availability of all-wheel drive with responsive handling and good stability. This car is suitable for any road conditions.
The interior has many useful features. For example, there is climate control with manual settings, the data can be seen on a small on-board computer display. The drive is switched using a small regulator near the gear knob . In the middle of the torpedo on top there is an additional storage box.
We also have owner's manuals for other vehicle years:
Need help?
If you could not find the answer to your question in the owner's manual for the 2011 Citroën C-Crosser car, you can write to us by clicking on the link below, please try to describe your problem in as much detail as possible.

Ask your question on the page Need Help!