2012 Citroën C-Crosser Owner's Manual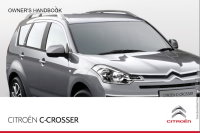 I would like to start with the fact that the French company Citroën expressed maximum support to Ukraine in connection with the full-scale invasion of the Russian Federation into its territory, and recalled more than 15 thousand cars from the aggressor country. Undoubtedly, this fact deserves respect, but it should be noted that the reputation of the French was impeccable from the very beginning. The Citroën C – Crosser was the group's first SUV, and it's certainly beautiful. The car has seven seats as standard and a smooth diesel engine. It is one of the main highlights of this model and has a volume of 2.2 liters. If the driver folds the two seats down, he gets a huge trunk, from which we can conclude that the 2012 Citroën C- Crosser is the ideal family car.
The 2012 Citroën C -Crosser is priced at $12,800 .
We also have owner's manuals for other vehicle years:
Need help?
If you could not find the answer to your question in the owner's manual for the 2012 Citroën C-Crosser car, you can write to us by clicking on the link below, please try to describe your problem in as much detail as possible.

Ask your question on the page Need Help!